September 10, 2019  | Boulder, CO: North America's leading participant media company today announced the launch of NatuRx, a multimedia platform whose mission is to educate health-conscious consumers about cannabis. "As the publisher of wellness magazines such as Yoga Journal, Clean Eating, and Better Nutrition, we've been inundated with questions from our readers about the safe, legal use of CBD and THC as part of an active lifestyle," said President & CEO Andrew Clurman. "Our editors have been reporting on this emerging category for years, so it was a natural choice for us to create a new type of cannabis magazine, one that approaches cannabis from a health and fitness perspective and will appeal to affluent, educated adults."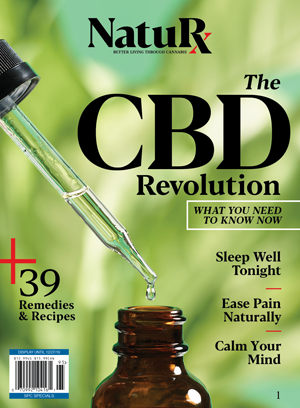 AIM is pursuing a two-pronged distribution strategy for launch. Part one is a broad national newsstand presence; the first issue of NatuRx goes on sale September 27 in groceries, bookstores, pharmacies, and airports nationwide. Part two is a highly targeted audience of wellness enthusiasts and early adopters, including opt-ins from AIM's database, plus distribution to dispensaries and exclusive placement on a standalone CBD display in a national grocery chain. AIM expects circulation of 200,000-250,000. The brand's website, www.TheNatuRx.com, and social pages are already live, and its online education platform, NatuRx University, will debut 10 consumer-oriented courses starting in late September.
AIM tapped a world-class editorial team to launch NatuRx and build all of the original content for the magazine, website, and online courses. Led by managing director Jonathan Dorn, the team has won a combined 10 National Magazine Awards and includes editor-in-chief Peter Moore, creative director Bryan Nanista, managing editor Christina Erb, digital director Katie Herrell, and digital editor Maureen Farrar.
Moore, the longtime VP/Editor of Men's Health and a best-selling health author, helms day-to-day content creation. "NatuRx isn't another stoner rag," he said. "It's a sophisticated service magazine that guides active adults to safe, smart use of cannabis through professionally researched content, how-to advice, and product coverage. There are millions of people who want to sleep better, ease chronic pain, and reduce stress – NatuRx will be their guide and manual for understanding CBD, THC, and the many benefits of this healing plant." The first issue features 112 pages of content printed on deluxe cover and body stock. The story mix is diverse, with news, inspiration, legal advice, product reviews, and plenty of actionable advice. Readers will learn how to make the perfect CBD smoothie, what to ask your budtender, and where cannabis tourism is booming. One feature story answers dozens of burning questions about safety, legality, and dosages; another profiles triathletes who are performing better thanks to CBD; and a third explores the very happy intersection of sex and cannabis. And don't miss our review of the vape-pen-vibrator (for real) or our exclusive interview with Cheech, the grown-up grandfather of bong hits – because NatuRx is serious, but not boring. "By leveraging AIM's audience and editorial expertise, NatuRx presents an unprecedented opportunity for brands to reach a large customer base whose psychographics range from open-minded to already-convinced," said publisher Rob Lutz. "With the myriad difficulties of digital marketing for cannabis, there's no better vehicle for establishing mindshare right now than this magazine and our university courses."
CONTACTS:   Jonathan Dorn, Managing Director, jdorn@aimmedia.com (303) 653-2368; Rob Lutz, Publisher, rlutz@aimmedia.com (970) 291-9029
————–
About Active Interest Media, Inc.
One of the world's largest participant media companies, Active Interest Media (aimmedia.com) produces leading consumer and trade events, websites, magazines, podcasts, films, and TV shows that reach 40+ million readers, fans, and attendees in 85 countries. AIM produces the World Series of Team Roping, the second-richest equestrian competition in the world. Our brands include Yoga Journal, Backpacker, SKI, Vegetarian Times, IDEA Fitness, Anglers Journal, Yachts International, Sail, Power & Motoryacht, EQUUS Journal, Horse & Rider Journal, Team Roping Journal, Oxygen, Clean Eating, Log Home Living, Old House Journal, Woodsmith, Garden Gate, Writer's Digest, Popular Woodworking, Numismatics, and more. The company's five divisions—the Equine Network, Home Group, Healthy Living Group, Marine Group, and Outdoor Group—also operate thriving B2B platforms, online universities, and retail events. Core competencies include lead generation (through our Qualified Buyer Program), marketing services (through our in-house agency, Catapult Creative Labs), and video production; Warren Miller Entertainment is the most successful adventure-film company in history, and AIM Studios is a bustling division dedicated to digital video. Active Interest Media's customers are smart, engaged, and loyal, and they look to our brands for trustworthy information and services that will inspire and enable them to enjoy their passions. 2143 GRAND AVENUE, DES MOINES, IA 50312 TEL: (303) 253-6301 WWW.AIMMEDIA.COM